Visit www.myuhcvision.com to find the vision network providers near you.
Save the most money by using a network provider. You can choose where to have an exam and where to purchase glasses or contacts.
Exciting Hearing Aid discount benefit! With your UnitedHealthcare vision plan, you have access to hundreds of name-brand and private-label hearing aids, plus convenient ordering options and personalized care from UnitedHealthcare Hearing
Exam: Once every 12 months
Lenses: Once every 12 months
Frame: Once every 24 months
Contact Lenses: Once every 12 months (contacts in lieu of lenses and frame)
Vision video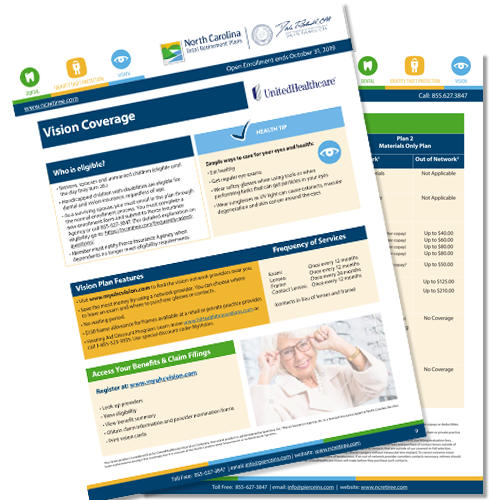 Vision Brochure
Learn about how UnitedHealthcare's vision plan protects your vision health: benefit explanation, premiums, how to file a claim and how to enroll.
View Now premiums on page 9
Vision Policyholder Information
Claim and Provider Questions: 800-980-2965
In-network provider: There is no claim form. Give your social security number to your provider to access your benefits for payment.
Out-of-network: Complete the attached claim form and follow instructions.
Certificate of Coverage
Materials only: F2765
Exam and Materials: F2763
Policy
Change of Address
(both need to be completed to expedite your receipt of important information)
Call 855-627-3847 or use our chat feature.
Look up and nominate providers
Request a vision ID card
View eligibility
View benefit summary
Claim information
Frequency of Services
Exam: Once every 12 months
Lenses: Once every 12 months
Frame: Once every 24 months
Contact Lenses: Once every 12 months  (contacts in lieu of lenses and frame)
New: Purchase Prescription Glasses Online through Warby Parker! www.warbyparker.com
Your company (and agent Bob Driver) provides outstanding service and products which has enabled employees to make the right choice and feel confident that they and their loved ones are adequately covered.  I highly recommend Pierce Insurance to all state agencies.
–Dean Tolson
Dare County Clerk of Superior Court 5.28.15
Nominate Your Provider
Online – Fill out and Submit our online provider Nomination Form  NOTE: You must login to the website after clicking the link above
By Phone 800-980-2965