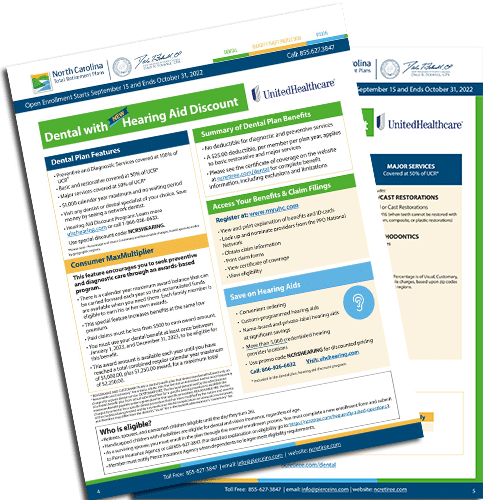 Dental Brochure
Learn about how UnitedHealthcare's dental plan protects your dental health: benefit explanation, premiums, how to file a claim and how to enroll.
View Now premiums on page 5
Dental Policyholder Information
Claims Questions: 877-905-0659
View and print explanation of benefits
View and print ID cards
Look up and nominate providers
Find a dentist (select "Employer and Individual" then "*National Options PPO 30")
Obtain claim information
Proper dental care is very important. Poor oral health has been linked to overall health problems. Protect your smile and body with dental insurance.
Key Dental Plan Features
No waiting period

Visit any dentist or specialist of your choice

Preventive and diagnostic services covered at 100% of usual, customary and reasonable

Consumer Max Multiplier encourages you to seek preventive and diagnostic care through an awards-based program

Exciting Hearing Aid discount benefit! With your UnitedHealthcare dental plan, you have access to hundreds of name-brand and private-label hearing aids, plus convenient ordering options and personalized care from UnitedHealthcare Hearing
Dental video
Bri was most helpful & resolved the issue in one phone call! Thank you for such excellent
customer service in these trying times.
Nominate Your Provider
Understanding how important a broad network of providers is in helping us deliver affordable dental care benefits, we strongly recommend that our retirees nominate dental providers to be added to our network.
By Phone 877-905-0659