Proper dental care is very important. Poor oral health has been linked to overall health problems. Protect your smile and body with dental insurance.
Key Dental Plan Features
No waiting period

Visit any dentist or specialist of your choice

Preventive and diagnostic services covered at 100% of usual, customary and reasonable

Consumer Max Multiplier encourages you to seek preventive and diagnostic care through an awards-based program
Dental video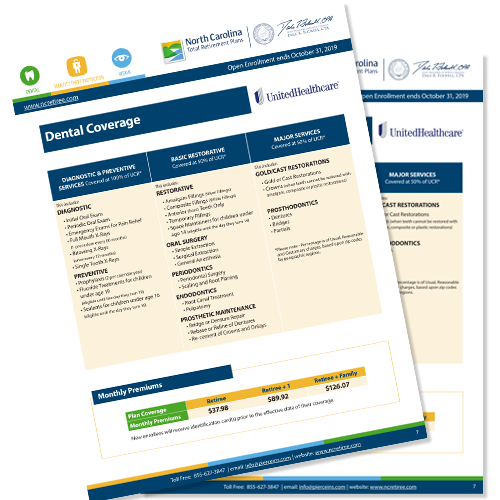 Dental Brochure
Learn about how UnitedHealthcare's dental plan protects your dental health: benefit explanation, premiums, how to file a claim and how to enroll.
Download Now premiums on page 6-8
Dental Policyholder Information
Claims Questions: 877-905-0659
View and print explanation of benefits
View and print ID cards
Look up and nominate providers
Find a dentist
Obtain claim information
Health4Me Mobile App
Get UnitedHealthcare info on the go with UnitedHealthcare Health4Me® — a mobile application designed to help you save time managing your health care.
She knew just where to look and had my answers in a few seconds. She went one step further, and suggested the perfect solution. She really did anticipate my insurance needs. This is not a paid endorsement!
Nominate Your Provider
Understanding how important a broad network of providers is in helping us deliver affordable dental care benefits, we strongly recommend that our retirees nominate dental providers to be added to our network.
By Phone 877-905-0659