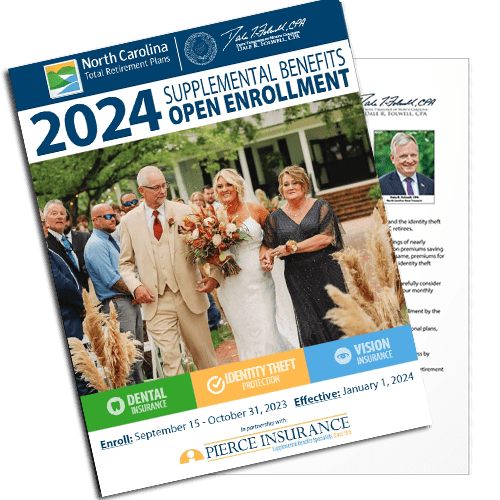 Enrollment Booklet
View letter from Treasurer Dale R. Folwell, CPA and learn about: benefits, premiums, contact and how to enroll.
Enroll Now
3 easy ways to enroll in identity theft protection, dental and vision benefits.
Enroll Online
Fill out the enrollment form online and then click submit. It is that easy!
Download Enrollment Form
and follow the instructions on the form to submit by mail, email or fax.
Enroll by phone
Call Toll Free (855) 627-3847
Open Enrollment
Open enrollment ends October 31, 2023. You may enroll in Dental, Vision and Identify Theft Protection. Benefits enrolled in will be effective January 1, 2024. If you already have benefits and do not need to make any changes, no action is needed.
New Retirees
Pierce Insurance will mail you an enrollment book that summarizes the supplemental benefits that are available to you as a retiree with the North Carolina Retirement Systems. To obtain identity theft protection, dental and vision insurance, you must complete the enrollment process within 60 days after you have received your first retirement benefit payment.
Are you a current policyholder for Life, Accident or Critical Illness and need to access service or claim forms?