Critical Illness (Guarantee Issue)
No medical questions to answer at initial enrollment for retiree, spouse and child(ren)
Plan covers: heart attack, cancer, stroke, organ transplant and more.
Cash benefits paid direct to you, tax free, up to $5,000.  You choose the benefits to protect yourself and any family members if diagnosed with a covered critical illness.
You go to your annual exam, the doctor runs tests, the results come back and you're diagnosed with a critical illness.
Cash benefits paid to you. You decide how to use the cash benefits. Claim forms found in policyholder information.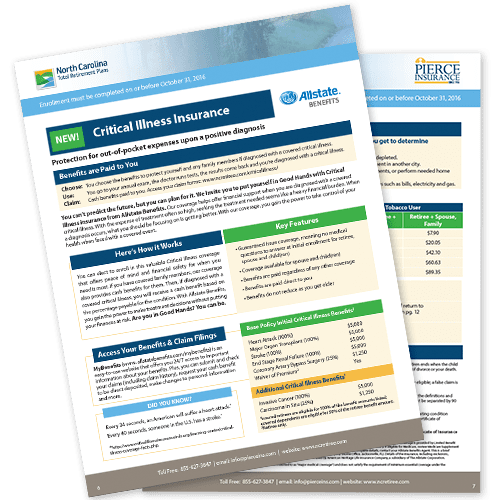 Critical Illness Brochure
Guarantee Issue! Learn about Allstate Benefits critical illness insurance, benefits, how to enroll, how to file a claim and premiums.
Download Now premiums on page 2
Critical Illness Policyholder Information
Claims Questions: 866-828-8501 | AB-Claims@allstate.com

Accessing benefit information has never been easier.
File claims
Check claim status
Get benefit coverage details
Review claims history
Make changes to personal information
File express claims. Get paid in  1- 2 business days with direct deposit
I just wanted to thank you for being so helpful when I made the phone call, I really did not expect for someone to be so sweet and nice as you were. Wish all of my phone calls were so pleasant. ‑Wanda, NC Retiree