Protect your hard-earned savings. No one plans to have an accident, but it can happen. Protect your savings with accident insurance.
Guarantee Issue: Benefits for Treatment of Accidental Injuries
Hospitalization, emergency treatment, intensive care, fractures, and more
$50 or $75 physician visit twice per year for any reason
Cash benefits paid directly to you, unless assigned
Up to $60,000 accidental death benefit and dismemberment benefit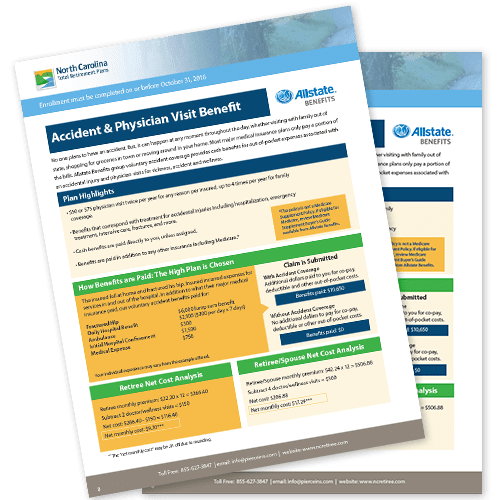 Accident Brochure
Learn about how Allstate Benefits accident plan provides cash benefits for expenses associated with physician visit benefits (sickness, accident and wellness), hospitalization and accidental death.
Download Now premiums on page 3
Accident Policyholder Information
Claims Questions: 866-828-8501 | AB-Claims@allstate.com

Accessing benefit information has never been easier.
File claims
Check claim status
Get benefit coverage details
Review claims history
Make changes to personal information
File express claims (accident, sickness and wellness). Get paid in  1- 2 business days with direct deposit
Terri, thank you so much for being so kind to me when I called about my insurance.  You have a gift of knowing how to make others feel as though they are the most special person alive.  I needed someone to care!  You are my angel that God sent. ‑Sandra, 1.16.16